Erv Schroeder Photography
Book Cover
I am proud to announce the publication of a book of my photographs by the University of New Mexico Press.

Contained within the book are: 60 duotones of my photographs from the Colorado Plateau, a forward by Bill McKibben, and an essay by Geologist Marcia Bjornerud. Indigenous writers—Natanya Ann Pulley, Rainy Dawn, Esther G. Belin, Orlando White, and Tacey M. Atsitty—contribute poems that speak about these places. Celebrated Acoma storyteller Simon J. Ortiz introduces the photographs and poetry The book is available from the University of New Mexico Press or Amazon.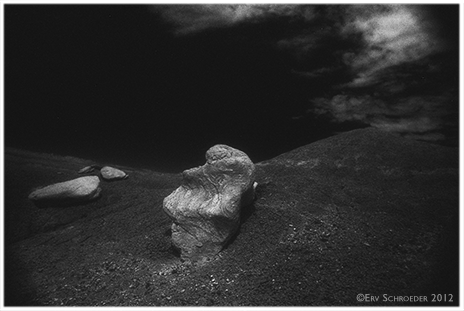 Dream Traveler
"In Erv Schroeder's recent photographs the viewer is treated to a meditation on the mysteries of the West through an intensive gaze into its rock formations. The diminutive prints are nothing less than gem-like in their rich tonalities and truly unique perspectives on what makes this landscape such a potent subject for photographers."
Wally Mason, Director, Sheldon Museum of Art, University of Nebraska-Lincoln
Featured Artist F-Stop Photography Magazine

Artist-in-Residence at the Petrified Forest National Park, July 18 - 31, 2011
Limited edition exhibition quality black-and-white prints are available.

Photographs from the National Parks and National Monuments of the SouthWest: Arches, Bryce, Capitol Reef, Canyonlands and others.